SA1603: Anthropology and Contemporary Debates
2018-2019
You should read the following sources in support of the lectures in the first four weeks.

Lecture 1: What 'contemporary debates'? What relation can anthropology have to these debates? What is theory?

5 items

In this lecture we will outline the scope of the 'contemporary debates' we will be looking into during the module. We will be discussing the connected crises of the biosphere and politics in relation to changing lifestyles and grassroots politics in the West and elsewhere. We will deal with this in the lecture, and a period of discussion to follow, which will focus on the sources above and how we might approach them as anthropologists.

Lecture 2: Culture and history. The advantages and limitations of classic anthropological strategies for dealing with contemporary problems.

4 items

Anthropology normally works by placing what people do in context as a way of understanding other people's lives. That context would usually be social or cultural or historical (or some combination of the three). That kind of intellectual strategy is, as you know, closely connected to ethnography as a method for conducting research. For understanding the contemporary crises, however, this kind of approach might not be all that helpful. This is for two reasons. First, the sorts of issues we are talking about are difficult to contextualise either because they cross all kinds of borders (migration, extinction, climate change etc) or because they belong firmly to 'our' culture (Trump, Brexit etc) and are difficult to explain in 'cultural terms'. Second, because in the contemporary crisis, things that used to operate as the 'background' to human activity – things like the climate, the sea, even the internet – have started to behave as participants in political processes. This seems to demand some innovation in the way we go about contextualising things.

Lecture 3: Narrative and discourse. How people tell themselves what is happening. Nature and culture, progress and homeland as particularly important figures for our time.

4 items

In this session, we are going to look at two key ideas that should be very helpful for you in developing anthropological approaches to the current crisis. First, the notion of narrative. A narrative is a story. In social life all kinds of histories, accounts of events, and projects for the future take the form of stories. Crucially, narratives are not freely constructed. They have rules that govern how they make sense, who will be recognised as an actor or agent within them and so on. If we understand these narratives, then we can begin to grasp how and why people approach the world in the way they do. Second, the idea of discourse. This is fundamentally similar to the idea of narrative. When scholars talk about discourse, however, they usually want to do two things. Firstly, they want to draw attention to the ways in which what people say or know gets built into institutions that have a lasting impact on social life. Second, they want to show how ways of talking have effects on patterns of inequality or oppression. We will look at these ideas in the lecture before discussing them in terms of recent news stories.

Lecture 4: What about materiality? Actor-Network-Theory (ANT) for complete beginners. Why this might be useful. Applications of ANT to the contemporary crisis.

6 items

This session is dedicated to thinking about a brand of social theory called 'Actor-Network Theory' (ANT), closely associated with French philosopher Bruno Latour. They key point of ANT is that social relations in themselves are not enough to account for the way contemporary life operates. Therefore, to account for 'social' life, we also have to understand all sorts of non-social things. These might include technologies, non-human organisms, ideas – and even the biosphere itself. This is potentially extremely useful for thinking through the current ecological crisis and its relationship to both contemporary politics and distinctively modern lifestyles.

Presentation and essay resources

Here you will find a collection of sources to start you off in your preparation for your presentations and essays. This list should be useful but shouldn't be taken as exhaustive. The texts are divided between news and other popular sources, and academic articles and commentaries. Sometimes – for example in the case of UN reports from the IPCC – the distinction is a bit blurred. You can and should read any of these sources in conjunction with the theoretical ideas introduced in the opening series of lectures.

You will also find, for each panel, a list of suggested questions that you might want to pursue in planning your presentations. Again, you shouldn't regard these as exhaustive or authoritative – feel free to adapt these questions or ask entirely different ones.

General sources

Good sources for anthropological approaches to current affairs include Anthropology Today (https://www.onlinelibrary.wiley.com/journal/14678322) and Cultural Anthropology's online 'Fieldsights' series (https://culanth.org/fieldsights). These are generally worth browsing. Some articles from both these sources appear in the lists below, but you may also find other things to interest you there.

Other useful sources on environmental issues are Scientific American and Nature. You have access to both of these publications through Brunel's library.

For general news sources, pick reputable outlets. The Guardian (left/liberal), The Independent (liberal/centre), The Times (right), The Telegraph (right) are all good sources. The New York Times and The Washington Post are also useful, although I am less familiar with their political alignments. The BBC is also a trustworthy source. Tabloid newspapers are less useful as sources of fact but can be very useful as sources of popular opinion.

Blogposts and web 2.0 content generally needs to be interrogated for who wrote them and why before you decide to trust them. This also applies to Wikipedia, which is of mixed quality.

Panel 1: Climate change and mitigation

21 items

opportunities of dealing with climate anthropologically. Alternatively, you could think about the ways in which particular sets of people or communities represent climate change, or respond to it in particular ways. For overviews of what is happening, the reports of the Intergovermental Panel on Climate Change (IPCC) are best. You could also look at climate change denial – this is of course more difficult to cite, because by definition, denialist sources are not good academic sources (since they're not dealing with facts). There are, however, some useful commentaries in this list. Suggested questions: How can anthropologists give (or contribute to) an account of climate change? Should we approach climate change denial through the lens of cultural relativism? Does the notion of the Anthropocene make anthropology more important? How should we approach local notions of climate in the context of debates over climate change?

Panel 2: Pollution

19 items

There are a number of debates at present concerning pollution, especially from organophosphate herbicides (notably Glyphostate/Roundup) and neonicotinoid insecticides, as well as Polychlorinated biphenyls (PCBS) and other highly persistent environmental pollutants – a list that includes CFCs (now banned but still produced in China), HFCs (used in refrigeration, recently banned by the Kigali protocol), and the PFCs used in waterproofing raincoats. You might also want to look into the controversy surrounding air pollution, both in the UK and globally. On the topic of pollution, you might also want to think about plastics (not all that much here – but plenty in the ether. Watch the final episode of Blue Planet II and follow the fallout from that, or the excellent Plastic Ocean). Pollution will often force you to think about the ways in which everyday human activity is connected to much larger issues of biosphere survival, and the different ways we either act unintentionally on the world, or the ways in which the effects of what we do are more or less deliberately masked by powerful actors (an issue that connects strongly to climate change denial). You will also probably find yourself thinking about inequality, and the ways in which inequalities and neo-colonial domination shapes pollution (no accident e-waste is typically disposed of in the Third World, or that a large proportion of plastic pollution comes from places without reliable reticulated water supplies). Suggested questions: What does pollution show us about the everyday human agency? How is pollution linked to inequality? What does the pervasiveness of pollution tell us about the kind of society we live in (esp Beck!)? How can anthropologists study pollution or waste (Henig, Drackner, Douglas)?

Panel 3: Extinction

14 items

This theme is important, since we are now living through the Sixth Extinction Event (the fifth one, the K-P extinction, wiped out the dinosaurs) but tricky, because there is not a great deal of material out there by or for anthropologists. There are a couple of different angles you might take here. One is to look into specific species or groups of animals. This list picks out orcas, bees (and flying insects in general) and orangutans – but there are many more candidates out there (rhinoceroses, or whales are both good examples). You could examine, perhaps making use of ANT, how the extinction of these organisms is taking place, and, if appropriate, why it matters. You might also go the other way around (the orangutans case is quite well-worked-out from this point of view) and examine what people are doing to try to avert extinctions, and what this might tell us. Another way of looking at these issues is to see extinction as a way of registering the kinds of changes taking place in the biosphere. Orcas, for example, will go extinct in UK waters because of chemicals developed and released into the environment in many years ago – so they ask us to think about when extinction happens, and what its history is. Suggested questions: How is X being made extinct and what does this tell us about the connections between human activity and the biosphere? What can we learn about the possibilities for political action from attempts to save X from extinction? When did extinction happen and what does this tell us about the possibilities for political action in the present (Beck from the list on pollution will be useful here)?

Panel 4: Populism

15 items

In many ways this is dead easy because there is so much coverage of what gets called populism, and such readily available anthropological theory about identity, nationalism etc. An easy route through this material is to think about the ways in which particular contemporary cases reflect or otherwise relate to anthropological ideas about identity etc. A more challenging approach is to try to link populism to other aspects of the contemporary crisis. This is relatively straightforward when it comes to migration (a lot of populist rhetoric is articulated around migration), but it can also be done around the climate (in the form of climate change denial) and extinction (especially in the case of Brazil). Here it might be useful to think about the ways in which populist notions of belonging and homeland are as unrealistic as modernist notions of endless growth and inexhaustible nature. Suggested questions: How does X relate to anthropological theories of identity/nationalism? Are anthropological theories of identity/nationalism adequate for thinking about contemporary populism? How do anthropological understandings of populism help us to understand other aspects of the contemporary crisis?

Panel 5: Social media and fake news

10 items

This is a relatively difficult set of issues to get to grips with because they are recent and although there is a great deal of discussion in the news and online about fake news, there isn't so much anthropological material out there. However, there is an anthropology of ignorance that you can draw on, as well as material about identity, nationalism etc from the list above. It might also be worth thinking about the kinds of social relations people form through social media, and how these relate to off-line lives and activities. You could also simply follow and analyse particular fake news stories and memes for what they have to say about the way people see each other and the world around them – this itself is likely to shed light on the contemporary crisis. Suggested questions: What impact does social media have on people as political subjects? What does X story/meme demonstrate about the way X people imagine their place in the world? Is fake news really 'fake'?

Panel 6: Migration

15 items

Lots of this in the news, so you shouldn't have too much difficulty finding materials. There's a very strong crossover here between sources on migration and sources on populism, since at present the two issues are very closely linked. Things to think about here are why people are on the move, how the reasons for their movements are like or unlike political representations of contemporary migration (e.g. the UK government systematically confuses migrants and asylum seekers), and how migration and the issues underpinning it are connected to other aspects of the contemporary crisis (it's especially worth looking into the role of climate change and shifting access to water in driving conflict and thus migration). You might also want to think about the way in which migration is represented in the media and the effect this has (or doesn't have) on popular opinion – think about the case of the photographs of Alan Kurdi's corpse, or Nigel Farage's 'Breaking Point' poster – or about the institutions that handle migrants in Europe. Suggested questions: What do responses to migration tell us about Europeans' ideas of themselves? What can anthropologists contribute to describing contemporary migrations? How do the institutions of borders create 'migration'/migration experiences? How is migration linked to other aspects of the contemporary crisis?

Panel 7: consumption and lifestyle change

7 items

One of the most troubling things about the contemporary crisis is that it definitely means that we will have to live differently in the future, although it isn't clear how. Of course, contemporary Europeans are always 'living differently', whether that is by '#eatingclean', getting ripped and quaffing protein shakes, or inserting jade eggs into their vaginas. This produces all kinds of difficulties for composing a serious politics because it is never clear at what point we are dealing with political action, and where we are simply finding more commodities and more consumption (which is exactly the problem!). Hovering over these Euro-centric issues, however, are other concerns with inequality and the situation of people for whom consuming anything much is always a problem. Suggested questions: How do patterns of consumption affect lifestyle changes in response to climate change? What might be the social or cultural significance of the large-scale adoption of veganism? How do patterns of consumption affect the meaning of the 'anthropos' of the Anthropocene? Does it make sense to talk about 'consumption' or 'lifestyle' cross-culturally?

Panel 8: Human-nonhuman relations

14 items

One of the really interesting aspects of anthropology in the age of the Anthropoocene is that it seems to ask us to think seriously about the kinds of relationships that people have with non-humans. These are often animals in the literature. Of course, anthropologists have often thought about human-animal relations, but those ideas seem to be developing a new edge at present. One effect of thinking about human-nonhuman relations is that it tends to complicate politics and demands that we think carefully about what kinds of entities need or deserve political representation. Suggested questions: What does X case show about the possibilities of human-nonhuman relations? Does X case force us to rethink what we mean by a person/political subject? In what ways are contemporary relationships between humans and non-humans similar or different to the ways they were thought about in older anthropological texts?

Panel 9: Resistance and dissent

16 items

In some ways this is an easy set of issues to deal with because a great deal of anthropological scholarship deals with issues of resistance and dissent, much of it quite current. You should, however, ask serious questions about whether conventional anthropological ideas are really up to the task of dealing with the contemporary crisis. Generally anthropological theories of power and resistance were framed to account for straightforward 'politics' between people, and not necessarily aimed at dealing with political contexts in which humans and non-humans find themselves mixed together as they evidently do at the moment. You might also want to think about the very clear and evident ineffectiveness of popular forms of resistance at the present time – whatever people are doing, it doesn't seem to be having any effect on the general trajectory of the contemporary crisis (although you might also find that to be an overly pessimistic view). Suggested questions: To what extent are anthropological understandings of resistance adequate to dealing with contemporary politics? How is popular resistance now different from earlier resistance in earlier periods? Why is popular resistance apparently so ineffective (is it ineffective?)? Is online resistance just 'clicktivism'?
All rights reserved ©
Profile Required
Reading intentions and notes are stored against your user profile. Please create a profile to use this feature.
My notes
You must be logged in to add a note
What are item notes?
You can use item notes to make personal notes on any of your reading items. Notes are private to you and will not be shown to other users.
You can review your item notes from the list, the item page or from your profile page.
---
How do I create an item note?
To make notes, first you must be logged in. Once logged in, simply click Add note? next to the list item you wish to make notes on. You can also make notes at the bottom of every item's detail page.
Your note will be saved automatically as you type.
Have you read this?
You must be logged in to set a reading intention
What are reading intentions?
Setting up reading intentions help you organise your course reading. It makes it easy to scan through your lists and keep track of progress. Here's an example of what they look like: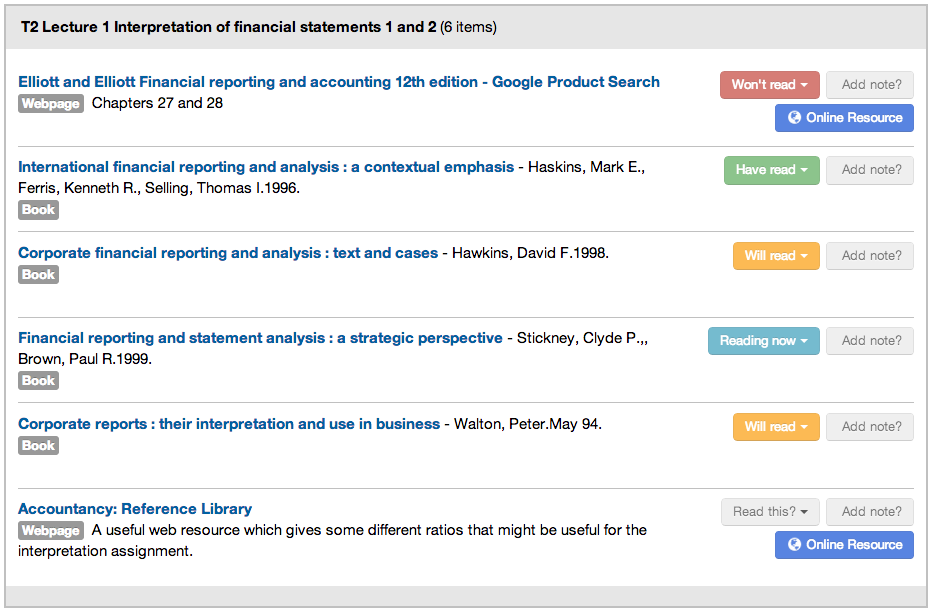 Your reading intentions are also stored in your profile for future reference.
---
How do I set a reading intention
To set a reading intention, first you must be logged in. Once logged in, click Read this? next to the list item you wish to set a reading intention for.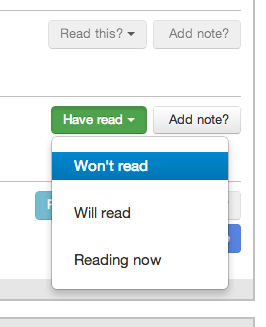 You can also set the reading intention from every item's detail page.