Week One Lecture: Introduction: 'Taking Comedy Seriously'

8 items

What is comedy? Something that makes us – or somebody – laugh? But what exactly is the basis of this particular reaction? How can we go beyond questions of 'is it funny' to understanding how and why? This session will introduce some of the general principles of the module, including an initial glance at some of the kinds of theories that have been used in attempts to explain or understand comedy. Seminar discussion will focus on a selection of screened comedy extracts.

Screening: No screening this week

Week Two Lecture: Spanners in the Works: Slapstick and Comic Performance vs. Narrative

13 items

What is the relationship between comic gags, slapstick, general silliness and the narrative structures in which it appears? To what extent does comedy disrupt or undermine narrative? We will start this week by taking an historical perspective, looking at the relationship between gag and narrative in the context of silent slapstick in the early decades of the 20th century. More recent 'comedian comedy', featuring performers such as Steve Martin, Robin Williams and Jim Carrey, will also be considered.

Secondary materials: Any films featuring central star comic performers, from Charles Chaplin to Bob Hope, Norman Wisdom and Jim Carrey.

Classical Hollywood comedy - Kristine Brunovska Karnick, Henry Jenkins 1995

Book Essential reading A spanner in the works? genre, narrative and the Hollywood comedian

Film comedy - Geoff King 20021903364361,9781903364369

Book Essential reading chapter 2 'Comedy and Narrative'

Classical Hollywood comedy - Kristine Brunovska Karnick, Henry Jenkins 1995

Book Essential reading section on Narrative, 'Introduction: Funny Stories

Classical Hollywood comedy - Kristine Brunovska Karnick, Henry Jenkins 1995

Book Essential reading • Tom Gunning, 'Crazy Machines in the Garden of Forking Paths: Mischief Gags and the Origins of American Film Comedy' and 'Response to "Pie and Chase"

Classical Hollywood comedy - Kristine Brunovska Karnick, Henry Jenkins 1995

Book Essential reading • Donald Crafton, 'Pie and Chase: Gag, Spectacle and Narrative in Slapstick Comedy

Hollywood comedians, the film reader - Frank Krutnik 20030415235510,0415235529,9780415235525

Book Other reading various essays, see especially those by Seidman (listed above), Henry Jenkins, and Philip Drake

Cinema and language - Patricia Mellencamp

Chapter Other reading read pp. 63-78, Jokes and Their Relation to the Marx Brothers

Week Three Lecture: From Grotesque to Gross-Out: Crudity, Carnivalesque and the Cultural Meaning of Comedy

26 items

Why do so many comedy routines revolve around activities such as farting, shitting or other 'unspeakable' activities involving bodily fluids? How can this kind of comedy be 'taken seriously' rather than dismissed as of little worth? Our focus this week will be on theories of the 'carnivalesque' and the socio-cultural dimensions of this kind of comedy – a licensed overturning of cultural norms?

Week Four Lecture: Comedy and Regression

12 items

Comedy often seems to involve a process of regression on the part of the comic performer, to a state akin to that of childhood or infancy. How might this kind of comedy be understood, particularly in reference to psychoanalytical theory? Why might the spectacle of regression be a comically pleasurable one, or one that causes irritation (as is often the case for the modern viewer of Jerry Lewis, star of this week's screening and the focus of the primary reading material)?

Week Five: Reading Week

0 items

Week Six Lecture: Television Sitcom (LH)

14 items

Sitcom is the most studied form of television comedy, analysed for its representations of gender, ethnicity and class and seen as a quintessential format for the medium – 'domestic', rooted in dialogue and performance. While programmes like The Young Ones sought to deconstruct the genre, its visual style and production methods remained relatively unchanged until recently – shot three-camera style in front of a studio audience. However, a broader range of 'looks' have started to appear in the genre, from the animation of The Simpsons and South Park to the heavily stylised Spaced, from the 'docu-soap' look of The Office to the use of point of view in Peep Show. One of the most interesting aesthetic shifts has been the use of recorded laughter ('canned' or studio audience generated) – long a mainstay of sitcom, it seemed to be going out of fashion in single camera sitcoms but is currently staging a revival. This lecture will look at 'classic' sitcom style, but also examine some of the recent stylistic shifts and their implications.

Television sitcom - Brett Mills 20051844570878,1844570886,9781844570874,9781844570881

Book Essential reading Read chapter 1, pp. 1-24, Introduction

Secondary reading:

8 items

The sitcom - Mills, Brett c2009

Book Other reading

Week Seven Lecture: 'Patchy in places': TV Sketch Comedy (LH)

12 items

The sketch show has two, seemingly very different, heritages - one rooted in variety and music hall, the other in Cambridge Footlights (seen as a more innovative and anarchic tradition - see, for example, the critical reputation of Monty Python's Flying Circus). It has also sometimes been seen as the poor relation to sitcom (which can be viewed as comic drama) and has received much less critical and academic attention. It has a reputation for unevenness (even in its most celebrated examples), but it has lent itself both to the 'flow' of TV and the isolation of favourite or 'classic' sketches on YouTube. This lecture will examine the form and dynamics of both the sketch show and the individual sketch, as well as some of the different approaches to the format

Monkey dust: Series one - Harry Thompson, Mic Graves, Shaun Pye, TalkBack (Firm) 2004 (videorecording)

Audio-visual document Essential reading

On specific TV sketch shows:

5 items

Week Eight Lecture: From 'Alternative' to Cult Comedy: British TV Comedy (LH)

12 items

The phrase 'Alternative Comedy' has been applied both to a specific group of oppositional comedians mainly associated with The Comedy Store club and to a longer tradition that can stretch back to Monty Python or Spike Milligan. However, with the huge success of Little Britain, what exactly is the difference between cult and mainstream British comedy? We will look at three areas. Firstly, cult comedy's 'cultural capital' has undergone a series of shifts from the intellectual references of Monty Python and Peter Cook, to the 'political correctness' of the Comedy Store performers to the pop culture references of more recent comedy like The League of Gentlemen. Secondly, 'alternative' comedy is institutionally determined by the public service demand for 'innovation', the niche targeting of older (BBC2, Ch 4) and newer (BBC3) channels), and developments in comedy management. Finally, 'cult comedy' is defined by a particular kind of fan consumption, which is intensified by the 'intimacy' created by DVD commentaries and the creation of 'worlds' that can be explored as obsessively as those of non-comic genres like SF/Fantasy.

Secondary reading:

5 items

Television sitcom - Brett Mills 20051844570878,1844570886,9781844570874,9781844570881

Book Recommended reading Read chapter: 'Sitcom and genre', pp 25-66

Week Nine Lecture: Satire and Parody

32 items

Satire and Parody are two forms of comedy that involve mockery and ridicule. Both entail victims, but of different kinds. This week's lecture will start with definitions of the two forms before going on to explore some of the implications of the use of specifically comic strategies in both cases.

Brass eye - Morris, Chris, Cumming, Michael, Baynham, Peter, Bussmann, Jane 2002 (videorecording)

Audio-visual document Essential reading

Secondary materials:

13 items

Brass eye - Chris Morris, Michael Cumming, Peter Baynham, Jane Bussmann 2002 (videorecording)

Audio-visual document Recommended reading

American political satires including

Wag the dog - Henkin, Hilary, Mamet, David, Levinson, Barry, Beinhart, Larry 1999 (videorecording)

Audio-visual document Recommended reading

any film or TV parody from

to the latest trend to be spoofed

Week Ten Lecture: Comedy Beyond Comedy: From Comic Relief to (Very) Dark Tones

21 items

What is the function or effect of comedy beyond its normal bounds; beyond a clear-cut sense of comedy as a genre or modality? Comedy is often used as a form of 'relief' in primarily non-comic forms or contexts, but the mixture of comedy and other qualities can also be challenging or disturbing, as will be seen in some very dark examples considered in this week's screening and lecture.

Week Eleven: Exam Practice

Screening: to be announced

There will be no lecture this week. Instead, there is a screening and seminars in which you will be asked to explore various different ways of bring the perspectives introduced so far on the module to the text screened. This will be useful preparation for the examination in the following week. It is essential that you attend the screening, or see the film yourself soon beforehand, if you are to gain any benefit from this session.

Week Twelve

***This week there will be a 'take away' exam ***

This will involve the screening in class time (to be confirmed) of an extract. You will then be required to submit a written analysis of some of the comedy in the extract, maximum 2,500 words.
All rights reserved ©
Profile Required
Reading intentions and notes are stored against your user profile. Please create a profile to use this feature.
My notes
You must be logged in to add a note
What are item notes?
You can use item notes to make personal notes on any of your reading items. Notes are private to you and will not be shown to other users.
You can review your item notes from the list, the item page or from your profile page.
---
How do I create an item note?
To make notes, first you must be logged in. Once logged in, simply click Add note? next to the list item you wish to make notes on. You can also make notes at the bottom of every item's detail page.
Your note will be saved automatically as you type.
Have you read this?
You must be logged in to set a reading intention
What are reading intentions?
Setting up reading intentions help you organise your course reading. It makes it easy to scan through your lists and keep track of progress. Here's an example of what they look like: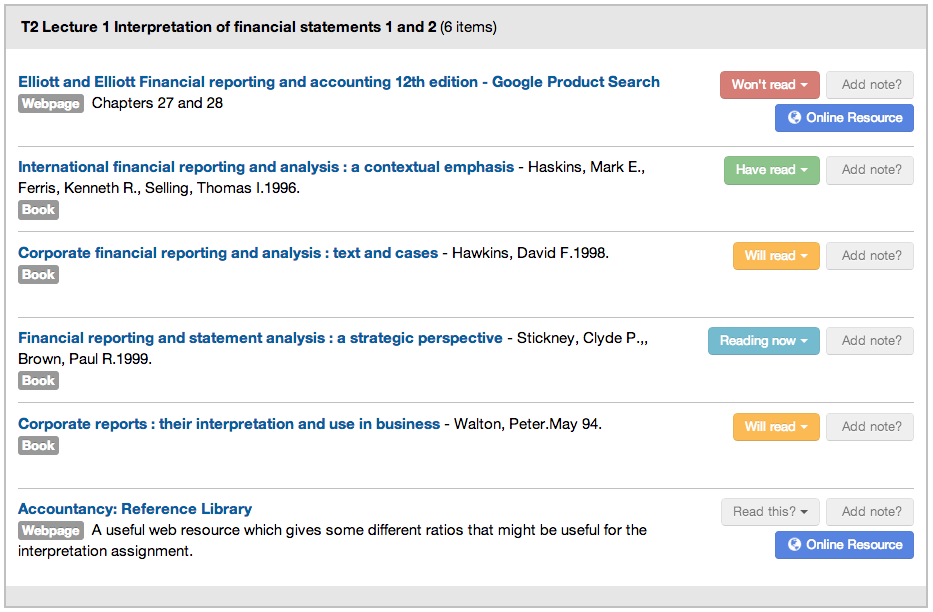 Your reading intentions are also stored in your profile for future reference.
---
How do I set a reading intention
To set a reading intention, first you must be logged in. Once logged in, click Read this? next to the list item you wish to set a reading intention for.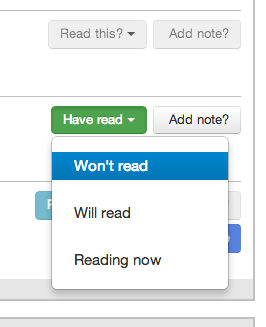 You can also set the reading intention from every item's detail page.