SA2605 - Political and Economic Aspects of Anthropology
2017-2018
Nicolas Argenti
Week 1. Introduction

0 items

Week 2. Montaigne Montesquieu, Rousseau: precursors of political anthropology.

14 items

In Renaissance France, the essayist Michel de Montaigne (1533-1592) wrote about the peoples of the newly discovered Americas with an objectivity and an open-mindedness that led to his being referred to as the first ethnographer, if not the first anthropologist. A century later, during the Enlightenment, Montesquieu (1689-1755) followed his Persian Letters, a veiled critique of the French monarchy, with the multi-volume Spirit of the Laws in 1748; a work that has often been cited as the foundation of sociology and anthropology. The Genevan Jean Jacques Rousseau (1712-1778) published the Social Contract a few years later, in 1762, transfixing generations of political scientists, politicians, and ordinary people ever since, including several of the instigators of the French Revolution and Karl Marx. This session explores how these three thinkers influenced the emergence of social anthropology in the late 19th century.

The complete essays - Michel de Montaigne, M. A. Screech 20030140446044,9780140446043

Book Essential reading Of cannibals', and 'That the taste of good and evil depend in large part on the opinion we have of them'.

The spirit of the laws - Charles de Secondat Montesquieu, Anne M. Cohler, Basia Carolyn Miller, Harold Samuel Stone 19890521369746,9780521369749

Book Essential reading

Persian letters - Charles de Secondat Montesquieu, Margaret Mauldon, Andrew Kahn 2008

Book Essential reading

Week 3. The anthropological study of political structures and dynamics.

9 items

It could be said that the first question ought not to be how anthropologists have theorised political power through the decades, but whether they have. One of the greatest critiques levelled at the discipline, especially in its earlier phase before decolonisation, is that anthropologists tacitly supported imperialist regimes by ignoring power structures, or by helping to identify or invent local structures of authority for colonial regimes to use or to undermine in their quest for power. In this session, we examine these critiques and go on to look at how the discipline eventually began to develop sophisticated questions and analyses about power and society.

Week 4. Essay workshop

1 item

Week 5. Power and Resistance.

14 items

For the first three quarters of the twentieth century, Anthropologists explained how social structures reproduced themselves over time and across generations. Anthropology, in this sense, was a discipline about stasis and permanence, not about change and transformation. The political dimension of this emphasis was a concentration on how power works, how rulers achieve legitimacy, and why the ruled always acquiesce to their positions of subordination. The realization, after decolonization, that power is not permanent, that legitimacy can be questioned, and that domination is not always accepted with complete resignation led by the mid 1980's to studies of resistance. This new field of enquiry would examine how those subject to power may not often overtly rebel against it, but might nevertheless confront it in a myriad of relatively covert, hidden, and unacknowledged ways. This session examines examples of these practices, assesses the advances marked by these studies, and looks also at their possible limitations.

Week 6. Clothing, identity and power

20 items

'You are what you wear' could have been the motto of many of those involved in social movements and processes of social transformation, colonial contact, and anti-colonial resistance. This session examines some of the movements in which clothing played a central role, and asks how what one wears might change who one essentially is.

Contemporary African fashion - Edith Suzanne Gott, Kristyne Loughran c20100253222567,9780253222565

Book Other reading La Sape exposed! High fashion among lower class Congolese youth. pp.157–173.

Global denim - Daniel Miller, Sophie Woodward 2011 (electronic resource)

Book Other reading

Week 7. Reading week.

0 items

Week 8. Orientalism.

9 items

Is academic study the disinterested pursuit of pure knowledge accumulated from a standpoint of objective, empirical enquiry, or has it arisen hand-in-glove with the spread of Western imperial power? Is the history of others gathered in the West a font of knowledge about the remote past of distant peoples, or little more than an agglomeration of stories we tell ourselves about ourselves; about everything we think we are not? In this session, we examine Edward Said's argument that Orientalism – and the humanities in general – should not be understood simply as the study of the East, but rather as a historical process of self-definition in the West that has arisen in dialectical opposition to a largely imagined world of difference.

Orientalism - Edward W. Said 2003

Book Essential reading Chap. 1

Week 9. History and Memory

4 items

How does violence affect remembering? How are the large-scale cataclysms, crises, disasters and dispersals that befall communities entrusted by one generation of witnesses to the next? Looking at how memories of large-scale man-made catastrophes are passed on from the original generation of victims and perpetrators to their children, the question arises how individual experiences of political violence coalesce into an accepted body of knowledge that can be coherently uttered and invested in collectively as legitimate and representative: how, in other words, individual memory contributes to social memory before social memory can once again shape individual subjective experience in the dialectic of self and society.

Week 10. State formation, violence and displacement

7 items

While it seems obvious that the upheaval and the pain of political conflict and its consequences – including the forced displacement of people – might be remembered for generations, it is perhaps less clear how the objects that people live with, produce, watch over, or worship with might mediate those memories and the emotions that they elicit. This session examines what the relationships might be between objects and memory in post-conflict societies.

Chapter Essential reading Chapters 1 and 6

The art of forgetting 19999781859732861

Book Other reading 'Remembering to forget: sublimation and sacrifice in war memorials. Chap 6

Week 11. State, conflict and memory in the lived environment

5 items

This session examines new theoretical approaches to the experience and transmission of the past through time. All of the articles in the 'Post-Ottoman topologies' collection listed in the readings below explore themes to do with the transmission of collective memories of post-Ottoman state formation and of the malaise associated with a contemporary epoch that we might term – echoing late modernity – late nationalism. This lecture explores the several manifestations of this general phenomenon under the rubric of post-Ottoman topologies, suggesting that where history creates a fixed, empiricist record of the past, topologies denote the flux of collective memory in its multiple and mutable incarnations across time.

The poetics of space - Gaston Bachelard, M. Jolas, Etienne Gilson 19940807064734,9780807064733

Book Other reading

Revision session.
All rights reserved ©
Profile Required
Reading intentions and notes are stored against your user profile. Please create a profile to use this feature.
My notes
You must be logged in to add a note
What are item notes?
You can use item notes to make personal notes on any of your reading items. Notes are private to you and will not be shown to other users.
You can review your item notes from the list, the item page or from your profile page.
---
How do I create an item note?
To make notes, first you must be logged in. Once logged in, simply click Add note? next to the list item you wish to make notes on. You can also make notes at the bottom of every item's detail page.
Your note will be saved automatically as you type.
Have you read this?
You must be logged in to set a reading intention
What are reading intentions?
Setting up reading intentions help you organise your course reading. It makes it easy to scan through your lists and keep track of progress. Here's an example of what they look like: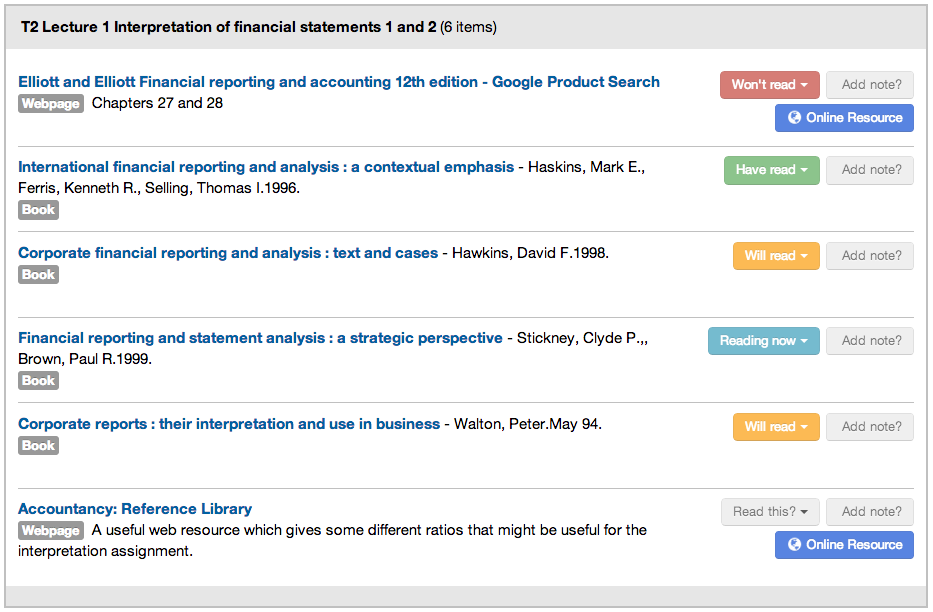 Your reading intentions are also stored in your profile for future reference.
---
How do I set a reading intention
To set a reading intention, first you must be logged in. Once logged in, click Read this? next to the list item you wish to set a reading intention for.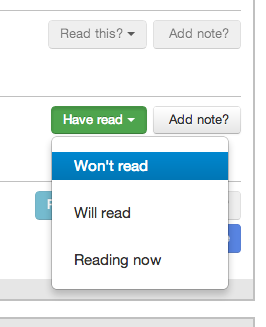 You can also set the reading intention from every item's detail page.