SA3606 Global Health in Anthropological Perspective
2018-2019
Week 17: Mon 14 January - TOPIC 1: What is 'global health?'

21 items

This opening session offers an overview of the module and its requirements, as well as opening up a critical discussion on what we mean by terms like 'global', 'health', 'public health' and 'global health'.We will ask what anthropologists can do to contribute to those debates, and if and why they should. We will also discuss if there is a universal right to health? And, if 'human rights' mean different things in different places, what do we mean by 'rights' in respect of health anyway? Athough students won't necessarily have read extensively before the class this week, the readings below are also useful for thinking through the themes that emerge in subsequent weeks of the module

Culture and global change - Tracey Skelton, Tim Allen 1999

Book Recommended reading Understanding Health. In: Culture and Global Change, pp: 70-83

FOCUS QUESTION:

Must medical anthropologists also be global health activists?

Week 18: Mon 21 January - TOPIC 2: Plagues and epidemics

16 items

How is it that some diseases and conditions come to be dubbed 'epidemic' – or even 'pandemic' – and others, despite affecting large numbers of people, do not? What is the difference between an epidemic, pandemic and syndemic? How do epidemiologists understand the terms 'risk factors', 'risk groups' and 'core groups'? How does the wider social, economic and political context shape understandings of risk?

FOCUS QUESTION: How well are the ethnographic examples of epidemics you have explored explained effectively by dominant narrative frameworks? What are the implications of looking at outbreaks of disease in this way?

Week 19: Mon 28 January - TOPIC 3: Migration, ethnicity and global health

11 items

Globalization brings with it increased movement of ever larger numbers of people across geographical borders, with varying implications, imagined and real, for public health. At the same time, fears about contagion from 'the other' – which, as we saw last week, have long historical roots – feedback into public debates about migration and ethnic identity. In looking at specific ethnographic examples, we also consider the health challenges that face those who cross national borders…

FOCUS QUESTION: On what are global health fears linked to migration based? And what health problems might face migrants themselves?

Week 20: Mon 04 February - TOPIC 4: Constructing global health problems: the case of FGM or 'female circumcision'

10 items

How do broader debates about child health, reproductive health, human rights, sexual abuse and the place of women in society influence international responses to female circumcision? How has clinical, epidemiological and social anthropological research on female circumcision been influenced by these debates? Is it appropriate for the WHO to refer to female circumcision as 'female genital mutilation' and to promote the end of this practice? Or are those who prefer the term 'female circumcision' apologists for brutal human rights abuses? And what can anthropologists usefully contribute to these debates?

FOCUS QUESTION:

What can anthropologists contribute to debates about female circumcision? How appropriate is it to take a 'cultural relativist' position?

Week 21: Mon 06 February - TOPIC 5: Reproduction, the state and infant & maternal health

8 items

With upwards of 10 million children across the world dying before their fifth birthday – the majority of them in poor countries – while elsewhere conception itself has been transformed by increasingly sophisticated technologies, does it make sense to think about issues of reproduction and maternal health as the same thing globally? This session considers problems of maternal and infant health and the approaches anthropologists might develop and use to make sense of them

FOCUS QUESTION: What can the study of maternal and infant health tell us about broader social issues?

Week 22: Mon 18 February - TOPIC 6: Dealing with disability on a global stage

5 items

If disability, as some disability scholars and activists have claimed, has nothing to do with the body and everything to do with social responses to negatively-construed bodily differences, then it would stand to reason that disability would be constituted in different ways across the globe. In exploring the validity or otherwise of that claim, in this class we will consider whether it might also be the case that scholars have been too slavishly committed to models designed to explain disability in Western post-industrial revolution societies. Might, for example, there be more local forms of knowledge that could help us overcome the ethnocentric qualities of sociological models – and, if so, how might these help us to think about global health more generally?

FOCUS QUESTION: How well geared-up is Disability Studies (DS) to studying 'disability' beyond western contexts? What can Anthropology offer to DS and vice versa?

Week 23: Mon 25 February READING WEEK—no class this week

0 items

Week 24: Mon 04 March - TOPIC 7: Disease in global perspective: leprosy and other stigmatised diseases

18 items

From what, if anything, can we learn about managing new diseases from the management of long-established diseases that are seen as potential threats to global health – such as leprosy – and more recent ones, such as HIV/AIDS/? Students will be asked to compare the responses of the global health community to leprosy and AIDS/HIV and to consider what light one might throw upon the other.

FOCUS QUESTION: To what extent is historical knowledge necessary in devising programmes to manage, cure and/or eliminate major diseases?

Week 25: Mon 11 March - TOPIC 8: Disease in global perspective: Ebola and beyond

11 items

Having considered, last week the complex interplay of biological, social, economic, historical and political factors that contribute to how diseases are spread, understood, responded to and experienced, in this session - with guest lecturer Dr Julie Hastings - we consider how anthropologists have reacted to the more recent Ebola outbreaks, and how an anthropological approach might contribute to wider efforts to control Ebola as well as other emerging diseases.

Ebola in Liberia: An Epidemic of Rumors - Helen Epstein Helen Epstein Helen Epstein Helen Epstein Colm Tóibín Jed Perl Anne Applebaum Rachel Donadio Charles Baxter Riccardo Manzotti and Tim Parks David Shulman Charles Simic Zadie Smith Ahmed Rashid 2014

Article Recommended reading

FOCUS QUESTION: To what extent it is necessary to examine local knowledge(s) of disease(s) to promote effective biomedical interventions? Are anthropologists the only ones who can or should do this?

Week 26: Mon 18 March - TOPIC 9: Global Mental Health: with a focus on suicide

24 items

Psychologists tend to explain suicide as an individual phenomenon, closely linked to mental health. By contrast, from Durkheim onwards, sociologists and anthropologists have framed suicide in socio-cultural terms, with evidence that different societies engender different suicide rates – and for particular reasons – as different practices of suicide and self-harm. This session explores these arguments and their implications for global health.

FOCUS QUESTION: Does it make sense to think about suicide as a mental health problem?

Week 27: Mon 25 March - TOPIC 10: Health, Rights and Entitlements

8 items

Is there a universal right to health? And, if 'human rights' mean different things in different places, what do we mean by 'rights' in respect of health anyway? How might they sit alongside civil, political or legal rights? Even if we can agree on that, what's the use of acknowledging someone's right to treatment, say, in settings where those treatments are beyond the reach of most people and beyond the capacity of the state to provide them? In addition, might the language of human rights – part of a globalising, neoliberal discourse framed by such notions as 'empowerment' – shoehorn us into particular ways of thinking about the distribution of health care that our ethnographic experiences might otherwise challenge? Do self-help groups and community-based rehabilitation programmes, for example, help people to access better healthcare, or do such initiatives merely shift responsibility from the state on to individuals? This week's class pushes us to engage critically with taken-for-granted understandings of health rights…

J. Staples, 'But what is a human rights approach?' Making sense of rights claims from an Indian disability NGO. [available on BBL]

FOCUS QUESTION: What right do people have to good health?

Week 28: Mon 14 April

0 items

There will be no formal lecture this week, but students are invited to come along to discuss plans for their essays due on 01 May (UG) and 22 April (PG) and to give feedback on the module overall.
All rights reserved ©
Profile Required
Reading intentions and notes are stored against your user profile. Please create a profile to use this feature.
My notes
You must be logged in to add a note
What are item notes?
You can use item notes to make personal notes on any of your reading items. Notes are private to you and will not be shown to other users.
You can review your item notes from the list, the item page or from your profile page.
---
How do I create an item note?
To make notes, first you must be logged in. Once logged in, simply click Add note? next to the list item you wish to make notes on. You can also make notes at the bottom of every item's detail page.
Your note will be saved automatically as you type.
Have you read this?
You must be logged in to set a reading intention
What are reading intentions?
Setting up reading intentions help you organise your course reading. It makes it easy to scan through your lists and keep track of progress. Here's an example of what they look like: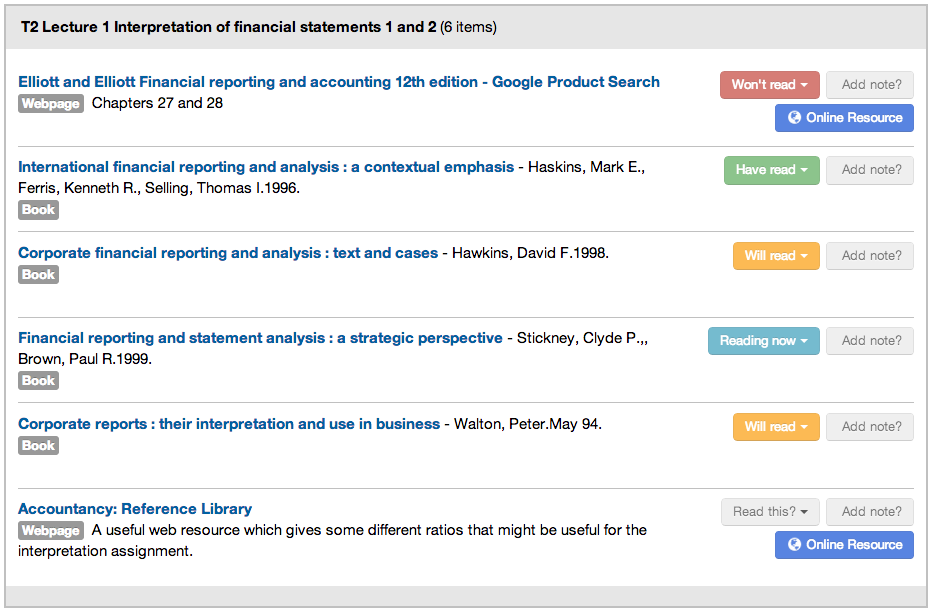 Your reading intentions are also stored in your profile for future reference.
---
How do I set a reading intention
To set a reading intention, first you must be logged in. Once logged in, click Read this? next to the list item you wish to set a reading intention for.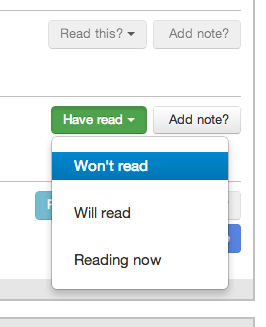 You can also set the reading intention from every item's detail page.