FM1619 - Technology, Industry and Form
2020-2021
This is a provisional list that has yet to be reviewed. Items may therefore change.
Week 1: Early cinema (Geoff King)

11 items

No Screening this week, lecture and seminar to include screening of early shorts

The very first films, screened from 1898 to the early 1900s, look very different from the kinds of products we are familiar with today. But how, exactly, should their difference be understood, in relation to their contemporary technology, industry and form? This session will introduce two contrasting approaches to historically-distant material of this kind. According to one perspective, we can measure such films against later norms (and usually find them lacking). Alternatively, we can seek to understand them in their own terms – at the level of their specific historical context, which will be aim of this session, which will also introduce the module more generally

Chapter Essential reading The Movies in Vaudeville: Historical Context of the Movies as Popular Entertainment (good account of context of early cinema)

Film history: an introduction9781260084856

Chapter Recommended reading Chapter one, 'The Invention and Early Years of the Cinema' (a useful starting point)

Chapter Recommended reading A Novelty Spawns Small Businesses, 1894-1908', introduction to Part 1

Early cinema: space, frame, narrative - Thomas Elsaesser, Adam Barker 19909780851702452

Book Recommended reading a wide-ranging collection of essays with useful introductions to each section

Week 2: Towards the Classical Hollywood Style (Geoff King)

7 items

This week we will look at the formation of what became known as the 'classical' Hollywood style, a form that developed during the first two decades in the history of cinema, many key aspects of which remain in place today. We will look at the key features of this style as it evolved from the earlier period. As with the previous week, and others on this module, we will also look at explanations for the change – again seeking to ground this in particular aspects of the specific historical context of the time, particularly in relation to industrial developments including the audiences for cinema.

Week 3: The Coming of Sound (Geoff King)

10 items

The arrival of synchronised sound in the second half of the 1920s is usually taken to be a key milestone in the development of cinema. How should this development be explained? This is another example in which we can compare contrasting approaches. On the one hand, the coming of sound might seem to have been an inevitable step – but to argue this not to add much to our understanding (it is, again, to read past developments in terms of where they subsequently led). Why exactly did it happen when it did? This week will employ some frameworks similar to those used in the first week, arguing for the need to look a specific factors that lead to technological change at particular moments – changes that go well beyond the realm of technological development itself. This is a classic case study example of how we might understand technology change more generally, including developments covered later in the module.

Film history: theory and practice

Chapter Essential reading read chapter 5, pp109-130 'Technological Film History' (excellent chapter from a key text on how to understand and 'do' film history)

Chapter Recommended reading read chapter 2 pp46-64 Sound Space

Chapter Recommended reading The Coming of the Sound: Technological Change in the American Film Industry

Week 4 - Hollywood from classical studio system to corporate era today

19 items

No screening

Screening: No screening, but exercise to do ahead of seminar:

Choose one or two Hollywood films and try to find out the following (some might be harder to discover than others):

1. which company (or companies) produced the film

2. who distributed it

3. which larger company or group does the production and/or distribution company belong to, and what other interests does that company have

4. how might the nature of the film itself be explained in terms of these business relationships?

The studio system, dated usually from the 1920s to the 1950s, was the form in which Hollywood became established as the dominant player both in the US and across much of the globe. We will start this week with analysis of the precise industrial form taken by the system, involving joint

control of film production, distribution and exhibition. We will also examine developments that led from this to the contemporary incarnation that includes a more fragmented production system but continued dominance of the studios as parts of large globally oriented corporations. This provides crucial industrial context for elements of Hollywood examined in other weeks.

Chapter Recommended reading read pp19-22 The Studios' and 'Warner Bros'

Chapter Recommended reading The Hollywood blockbuster: Industrial analysis and practice'

Chapter Recommended reading read pp87-121 Money Matters: Hollywood in the Corporate Era

Chapter Recommended reading Following the money in America's sunniest company town: Some notes on the political economy of the Hollywood blockbuster

Week 5: Reading Week. No classes this week

0 items

Week 6. Italian neorealism

14 items

Roma, cittá aperta - Roberto Rossellini, Sergio Amidei, Federico Fellini, Aldo Fabrizi c2005 (videorecording)

Audio-visual document Recommended reading Log in to Box of Broadcasts in order to view/access this film.

Widely seen as the first example of post-war European Art Cinema, Italian Neorealism would prove to be enormously influential (not least on the French nouvelle vague) while establishing Italy as one of the major national cinemas, with such celebrated directors as Roberto Rossellini, Vittorio De Sica and Luchino Visconti. Founded on the rejection of the glossy escapism and studio settings of fascist-era cinema, Neorealism explored the harsh realities of an Italy emerging from the war, filming on real locations, mixing professional and non-professional actors, and exploring such subjects as poverty, the wartime occupation of Rome, and the impact of American culture on post-war Italy.

Recommended viewing

1 item

The bicycle thieves - Vittorio De Sica, Luigi Bartolini 2009 (videorecording)

Audio-visual document Recommended reading

Chapter Essential reading read chapter 9 pp77-83 Stephen Gundle, 'Neorealism and Left-wing culture'

Chapter Recommended reading Read pp. 233-237, Italian Neo-realism

Week 7: Television: the broadcast era

22 items

Pennies from heaven - Piers Haggard, Dennis Potter, Kenith Trodd, Bob Hoskins 2004 (videorecording)

Audio-visual document Essential reading Log in to Box of Broadcasts in order to view/access this film.

In this week we examine British television as an institution shaped by histories of technology, regulatory frameworks and economic imperatives. We will see how the concept of Public Service Broadcasting has influenced the texts and genres we see on our television screens in Britain, particularly in relation to television drama.

The politics of media policy - Des Freedman 2008

Book Recommended reading Read: Freedman, Des (2008) 'Pluralism, Neoliberalism and Media Policy' open access

Chapter Recommended reading Read Chapter 2 pp 9-26 studying television

Chapter Recommended reading read chapter 17 pp275-292 John Ellis, 'Television Production'

Week 8 - Multichannel TV (Caroline Ruddell)

18 items

The development of cable, satellite and digital television characterise the 'post-network' and 'post-broadcast' era of multichannel television. What are the technological and formal changes to television production and consumption that shape television in the 21st century and how should these be understood?

Week 9 - Hollywood blockbuster production, spectacle, special effects and narrative (Geoff King)

32 items

Jurassic World - Colin Trevorrow 2015

Audio-visual document Essential reading Log in to Box of Broadcasts in order to view/access this film.

Contemporary blockbusters are often accused of surrendering any interest in narrative/story or character to an emphasis on the provision of ever-more lavish or noisy spectacular entertainment or special effects. This week's lecture will examine the context and characteristics of spectacle in the Hollywood of recent decades as a big-screen attraction with a particular industrial basis. But it will also suggest that narrative is far from being abandoned, even in the most spectacular or critically derided blockbuster.

The new American cinema0822320878,0822321157

Chapter Essential reading From Pillar to Postmodern: Race, Class, and Gender in the Male Rampage Film

Chapter Essential reading Read Chapter 1, pp. 21-36, Narrative and the action film

Webpage Essential reading

On narrative, primarily

8 items

Chapter Recommended reading Warren Buckland, A close encounter with Raiders of the Lost Ark: notes on narrative aspects of the New Hollywood blockbuster

Chapter Recommended reading Elizabeth Cowie, Storytelling: classical Hollywood cinema and classical narrative

Chapter Recommended reading Geoff King, 'Unraveling the Puzzle of Inception'

On spectacle, primarily

6 items

The cinema of attractions reloaded - Wanda Strauven 2006

Book Recommended reading various essays, especially that by Scott Bukatman, 'Spectacle, Attractions and Visual Pleasure') 
On both or more background reading

Hollywood cinema: an introduction - Richard Maltby, Ian Craven 19950631157069,0631157328,9780631157069

Book Recommended reading 'The Spectacle of Movement', in chapter 6, and chapter 8, 'Narrative'

Contemporary American cinema - Michael Hammond, Linda Ruth Williams 2006

Book Recommended reading Spectacle and Narrative in the Contemporary Blockbuster

Chapter Recommended reading Spectacle, Narrative, and the spectacular Hollywood blockbuster

Week 10: New dimensions: from widescreen to 3D and beyond (Geoff King)

19 items

Gravity - Alfonso Cuarón, Sandra Bullock, George Clooney 2014 (videorecording)

Audio-visual document Essential reading

Two main examples of technological development will be considered this week: widescreen cinema from the 1950s and 3D in both the 1950s and since, including its contemporary incarnation. We will explore the reasons for such developments, particularly in relation to industrial strategy, as well as the reasons why some new technologies might not be implemented.

(divided by the two periods, although might be some overlap)

On earlier period:

7 items

On more recent 3D:

10 items

Week 11 - Industry, technology and contemporary Hollywood style (Geoff King)

21 items

The Bourne supremacy - Paul Greengrass 2004 (videorecording)

Audio-visual document Essential reading

To what extent do contemporary Hollywood films remain broadly classical in their visual style, or in what ways might be identify elements of something different or even 'post-classical'? A number of claims about the post-classical will be considered and qualified, alongside their industrial and technological contexts, including David Bordwell's key notion of 'intensified' continuity.

Primary Reading:

10 items

Film art: an introduction - David Bordwell, Kristin Thompson, Jeff Smith 20171259253317,9781259253317,9781259534959

Book Essential reading see section on Continuity Editing

Chapter Recommended reading esp. chapter 4 pp 107-142 hollywood home entertainment: controlling and profiting from video software

Week 12 - Home and mobile film viewing: from movies on TV to tape, discs, downloads and streaming (Geoff King)

17 items

Wanted - Phillip Noyce, Timur Bekmambetov, Angelina Jolie, Liev Schreiber 2011 (videorecording)

Audio-visual document Essential reading Log in to Box of Broadcasts in order to view/access this film.

Once shown only in cinemas, films are now viewed in a multitude of settings, from the first screenings on television to the development of hardware systems such as videotape and DVD and online streaming, downloading and mobile viewing. This week we will examine the industrial context of such developments – particularly in the context of Hollywood– as well as some potential implications at the level of film form, some of which relate to material from the previous week.

Chapter Recommended reading 'Widescreen composition in the age of television'

Week 13: Careers conference and industry visit (Caroline Ruddell)

0 items

This week's classes will be replaced by a visit to an organization/company within the film and television industries, to enable you to engage with some aspects of the industry more directly. This will form a key basis for the second assessment, full details of which are under 'Assessments' above'. More details will be available nearer the time. The Careers conference related to assessment 2 will also be held in this week.

Week 14: Media convergence in the digital age (Niki Ashby)

13 items

This week we look at what Henry Jenkins calls 'convergence culture', where media texts are distributed across multiple platforms, including video games, online material and spin-off merchandising. What are the implications and possibilities for contemporary storytelling? We will look, in particular, at transmedia storytelling and the extension of fictional 'worlds'.

Week 15: Low/no-budget digital film (Geoff King)

33 items

Four eyed monsters - Arin Crumley, Susan Buice 2008 (videorecording)

Audio-visual document Essential reading

Technological developments in the last decade or so have made digital filmmaking available to a wider constituency than has ever been the case in the past, with the means of certain kinds of production available via the use of regular consumer-priced equipment. At the same time, online distribution has made it possible to by-pass traditional gatekeepers to reach an audience. This week's session will examine these developments, along with some formal qualities associated with digital film production, focusing primarily on examples from the American indie sector.

Week 16: Ecocinema: Environmentally sustainable film and television production (Niki Ashby)

16 items

This class explores the environmental impact of the film and television industries and how filmmakers are responding to the climate crisis. We will look at the challenges of the 'green' film and the policies and governing bodies paving the way for environmentally sustainable productions. You will be introduced to the tools and practices used in the British film and television industries to help you to ensure your productions are environmentally sustainable.

Finite media - Sean Cubitt 20170822362813,0822362929,9780822362814,9780822362920

Book Recommended reading

Week 17: Cultural rights, copyright and digital technologies (Mike Wayne)

8 items

This week looks at the impact digital technologies have had on copyright. Hollywood, along with the music industry, has been at the forefront of a global battle to protect revenue streams threatened by the close-to-zero cost digital reproduction and dissemination of creative content. The conflict goes to the heart of the contemporary contradiction between private property rights, cultural rights and the digitally enhanced capacity to share.

Week 18: Reading week, no classes this week

0 items

Week 19: Introduction to Critical Political Economy (MW)

6 items

This session introduces you to critical political economy. This is a form of economic analysis that integrates social and political questions that challenge some of the main assumptions underpinning mainstream (capitalist) economics. We explore how leading trends within the capitalist economy explain the tendencies that shape Hollywood, such as the tendency towards monopoly ownership. We will explore the nature of the cultural commodity and see how it differs from other types of commodities. In the seminar we will explore the political economy of Hollywood's domination of the British market.

Week 20: TV case study: Euro-crime and quality TV (Leon Hunt)

15 items

From 'Scandi-noir' to the Italian crime drama, the crime series, particularly from Europe, is a TV format that enjoys global mobility as a form of popular, 'quality' (subtitled) TV. We will examine how selected examples combine generic familiarity with cultural particularity.

Week 21: Film case study: Nollywood (Geoff King)

10 items

The Nollywood video film industry has boomed in recent decades, offering an example very different from others examined so far in all three key dimensions explored in this module: located outside dominant industrial frameworks, being founded on the use of old rather than new technologies and also contrasting often at the level of form or of technical competence.

Week 22: Case study: What did the camera say to the film director? Technics and Causality: the case of the GoPro (Ramon Bloomberg)

11 items

Leviathan - Lucien Castaing-Taylor, Vâerâena Paravel, Cinema Guild 2013 (videorecording)

Audio-visual document Essential reading

In this session we will explore the question of causality and technical development in the context of cinema. Does the film-maker choose the tools, or do the tools choose the film-maker? There might not be one answer to this question. During the session we will screen and discuss the work of Harvard's sensory ethnography lab and in particular the 2012 film Leviathan, directed by Lucien Castaing-Taylor and Verena Paravel.

Week 23: Animation (Caroline Ruddell)

12 items

To the casual observer, animation is often seen as a small subset to live-action in both the film and television industries and in film and television scholarship. This is an idea that this session will challenge. We will chart the development of animation in early cinema where it was not seen as 'different' to live-action into the Studio era where Disney and the Fleischer Studios became prominent animation producers. We will focus primarily however on how pervasive animation is across the media industries in a contemporary context, looking at a period from the 1980s (which Paul Wells argues is a period of the 'reclamation' of animation) into the dominance of computer generated imagery.

The animation studies reader 20199781501332609

Book Essential reading Lilly Husbands and Caroline Ruddell (2018) 'Approaching Animation and Animation Studies'

Moving Innovation - Tom Sito Aug 21, 2015 (paperback)0262528401,9780262528405

Book Recommended reading
All rights reserved ©
Profile Required
Reading intentions and notes are stored against your user profile. Please create a profile to use this feature.
My notes
You must be logged in to add a note
What are item notes?
You can use item notes to make personal notes on any of your reading items. Notes are private to you and will not be shown to other users.
You can review your item notes from the list, the item page or from your profile page.
---
How do I create an item note?
To make notes, first you must be logged in. Once logged in, simply click Add note? next to the list item you wish to make notes on. You can also make notes at the bottom of every item's detail page.
Your note will be saved automatically as you type.
Have you read this?
You must be logged in to set a reading intention
What are reading intentions?
Setting up reading intentions help you organise your course reading. It makes it easy to scan through your lists and keep track of progress. Here's an example of what they look like: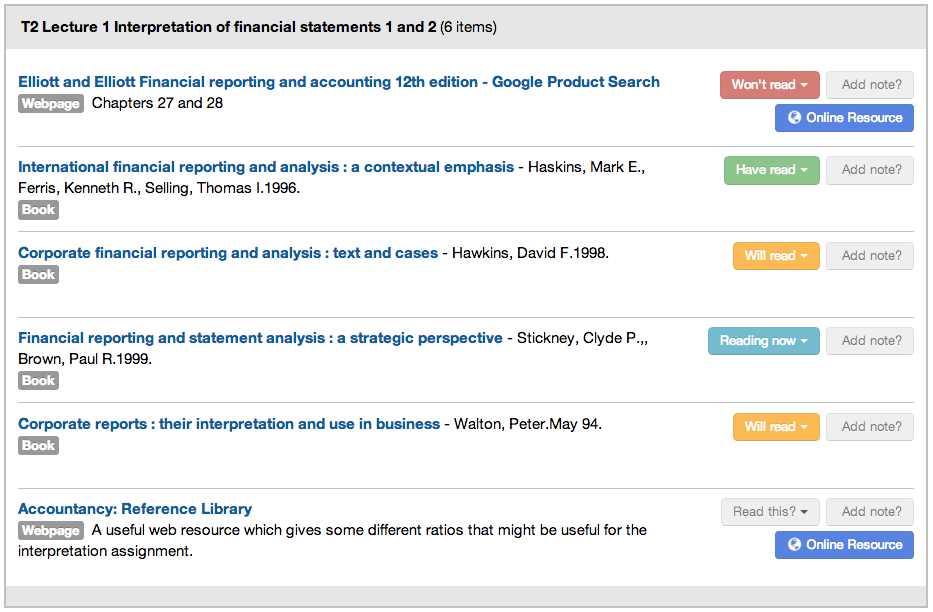 Your reading intentions are also stored in your profile for future reference.
---
How do I set a reading intention
To set a reading intention, first you must be logged in. Once logged in, click Read this? next to the list item you wish to set a reading intention for.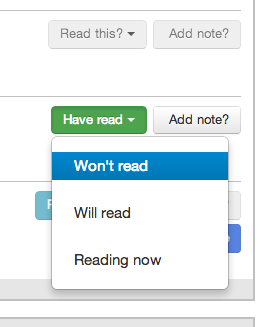 You can also set the reading intention from every item's detail page.