SA1003 - Introduction to Anthropology: Themes
2017-2018
(Term 1, 2017-18) Dr Peggy Froerer
Welcome to SA1003 Introduction to Anthropology: Themes!

This module has two basic aims:

To introduce you to anthropology by way of some key themes in the discipline. These will-
Encourage you to 'think like an anthropologist' in the way you approach the questions you face, the arguments you encounter, and the lives of other people.

If there is one idea you need to take away from this module, it is that there is never only one way of thinking about the world or organising life. There are many, and all of them are equally valid on their own terms. The challenge of being an anthropologist is to understand these different ways of being a person, and to think and write about them without presuming that *our* way is better. This is harder than it sounds!

This reading list is intended to be quite economical. It is not padded out with hundreds of extra sources, but focuses on what you need to read to deal with the lectures and assessments. You will find, however, that you get more out of your studies (and better results!) the more you read. Staff in the library, your lecturers and personal tutor will be able to give you advice on how to search for other relevant material on topics that interest you. There is plenty more out there to explore!

Important Dates and Deadlines

- Week 3, 10/11: Formative Essay Deadline (submit to Personal Tutor)

- Week 8, 13/11: Assessed Essay Deadline (electronic copy, submitted via BBL, by 12:00 noon)

- Week 12, 12/12: Class Test

Week 1, 26/09: Being an anthropologist

4 items

In this session, we are looking at what anthropology is, what anthropologists do, and what the discipline can teach us about being human.

Week 2, 3/10: What exactly are we studying?

8 items

The second session in this module is dedicated to working out what anthropologists study. At one level this is simply a matter of explaining some theoretical terms, especially 'society' and 'culture'. However, it's more complicated than that, as we will see.

Week 3, 10/10: Grasping the world: why do people classify things?

6 items

If we want to understand how other people live, we need to get to grips with the kind of world they live in. Understanding how and why people classify things is a good place to start.

Week 4, 17/10: Nature and culture

7 items

We saw in the last session that other people classify the world into categories that are very variable. If we follow this reasoning to its conclusion, it follows that Western notions of what is 'natural' and therefore proper or necessary aren't universal. Is there any such thing as 'nature'?

Week 5, 24/10: People and things (gifts/commodities)

7 items

Why are things valuable? Why do people want to have more stuff? Are all people motivated by wealth? These are questions that will lead us in this session to question the relationships between people and things.

Week 6, 31/10: Inequality and domination

6 items

Is inequality natural and inevitable? Why do some people seem to have more worth than others? In this session we explore why people end up unequal and how that inequality is brought about.

Inequality among men - Andrâe Bâeteille 1977

Book Essential reading Read the chapter 'The Two Sources of Ineqaulity'

There is no lecture or seminar during reading week. You should use this time to catch up on your reading and to work on your assessments.

Week 8, 14/11: Colonialism and development

10 items

So far, we have been looking at different applications of the cultural relativism that is such a central part of anthropology. But the discipline also exists in relation to other things - importantly global systems of inequality which have shaped its history. To be responsible anthropologists, we need to acknowledge and understand the colonial legacy of our discipline.

Yali's Question - Frederick Errington, Deborah Gewertz November 15, 2004 (Hardcover)0226217450,9780226217451

Book Other reading

Week 9, 21/11: Race and Ethnicity

11 items

This lecture will look at the development of racial ideas in Western science and culture, contrasting the various 'scientific' approaches to the view of race as a social construct. We will briefly consider the concept of 'ethnicity' and how this relates to race.

Week 10, 28/11: Rights and wrongs

14 items

Here is another problem for a culturally relativist anthropology: what do you do when you know that other people do terrible things to each other? Should we understand violence and the infliction of pain as part of a culture that should be respected? Or should we intervene? What right do we have to criticise other people?

Week 11, 5/12: Summary and Revision Lecture

1 item

This lecture comprises an overview of the main themes that have emerged in the course of this module. It also serves as a review session for the forthcoming in-class test.

Week 23, 12/12: Class Test

1 item

The final week's session is devoted to an in-class test, which counts for half the mark for this module. You should check your timetable carefully for this week, as the test may be held at a different time and place to the normal lecture hour.
All rights reserved ©
Profile Required
Reading intentions and notes are stored against your user profile. Please create a profile to use this feature.
My notes
You must be logged in to add a note
What are item notes?
You can use item notes to make personal notes on any of your reading items. Notes are private to you and will not be shown to other users.
You can review your item notes from the list, the item page or from your profile page.
---
How do I create an item note?
To make notes, first you must be logged in. Once logged in, simply click Add note? next to the list item you wish to make notes on. You can also make notes at the bottom of every item's detail page.
Your note will be saved automatically as you type.
Have you read this?
You must be logged in to set a reading intention
What are reading intentions?
Setting up reading intentions help you organise your course reading. It makes it easy to scan through your lists and keep track of progress. Here's an example of what they look like: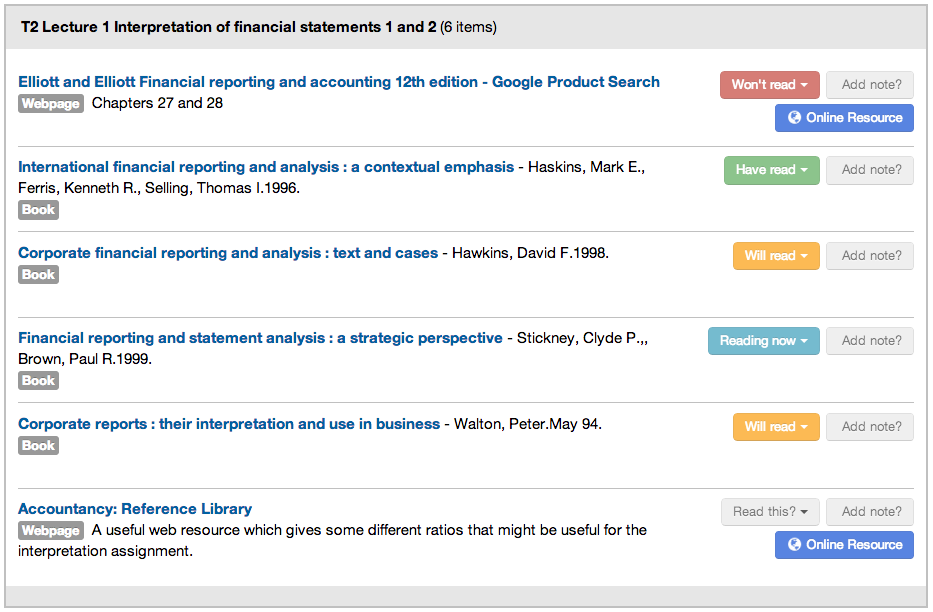 Your reading intentions are also stored in your profile for future reference.
---
How do I set a reading intention
To set a reading intention, first you must be logged in. Once logged in, click Read this? next to the list item you wish to set a reading intention for.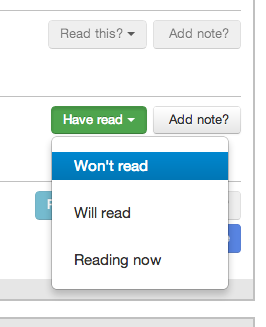 You can also set the reading intention from every item's detail page.